Visual Artist, Voiceover, Community Volunteer.
Alli Gerrish is a visual artist living and working in Boulder, Colorado and represented by Agora Gallery in Chelsea, NY. Since 2002, she has worked creating narrative paintings to visually examine and express shared contemporary experience and culture. She uses pure abstraction as well as calligraphic or figural representations to make sense of the common questions we all share. Her works have been shown at galleries throughout the greater Denver area and are included in 75+ public and private collections throughout the country.
Artwork can be seen on alligerrish.com and Instagram @alligerrish.
Alli began her first career in advertising in Broadcast Production; beginning at Ketchum Advertising and then Hal Riney & Partners in San Francisco. Her team created award winning work for the Saturn Car Company and other national clients.
While working in postproduction, she discovered her skills as a "real people" voiceover which lead to another career change as a voice talent for ad campaigns, videos and audio books.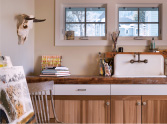 Alli is currently serving on the Community Board for the CU Art Museum working to support the museum staff in their mission to provide a forum for exchanging ideas, inspiring collaboration and fueling imagination through art. Previously she served on the Advisory Board for BackYardHive working to integrate their story of pollinator survival through voiceover and brand/logo design and the Board of Blue Sky Bridge, a child advocacy center serving sexually abused children. As Brand Chairman for Blue Sky Bridge, she facilitated the creation of marketing strategy, art directing and managing production of a new logo, website and marketing materials.