Alli Gerrish is a nearly-native Coloradan with roots in New England and fond memories of a decade spent in the gorgeous hills of San Francisco. Her professional life began in advertising with a career in broadcast production and voiceover work, before moving to back to Boulder full time in 2002 to pursue this unexpected new chapter as a painter. Drawing and studying since childhood, she had not previously integrated her art into the commercial world, but feels it has been a tremendous gift and a way to take the adversity in life and transform it into a bounty of opportunity.
Her work is about bringing the subconscious mind into the unplanned and spontaneous practice of action painting. She utilizes pure abstraction as well as calligraphic or figural representations to express the duality ever present in this world.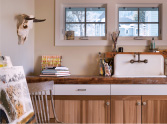 Alli Gerrish has studied at the Academy of Art San Francisco, the Classical Art Academy, Naropa University, The Arts Student League of Denver as well as Anderson Ranch Arts Center. Her work has been shown at galleries throughout the state and is in public and private collections throughout the country.