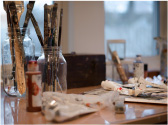 My name is Alli Gerrish and I am a visual and voiceover artist living in Boulder Colorado. I have been painting and sketching my way through life for as long as I can remember and it has always been a way for me to visually examine and express my shared experience and culture.
As an artist, I believe in the power of art to help people tap into a universal consciousness of the common joys and fears we all share. Putting paint onto the canvas is a peaceful way to make order out of chaos, joy out of struggle and to share the beautiful that is always found next to the challenging. I find that by exploring the energy of our circumstances, we can use visual language to heal our hearts and minds and hopefully create a source of inspiration for how we would like to move forward in our future.
My work straddles a common space between abstract and symbolic representation to share collectively the wisdom that can come from adversity. Words may fail us in the end, but art can speak to the part of us that has no words.
Represented by Agora Gallery, New York New York.